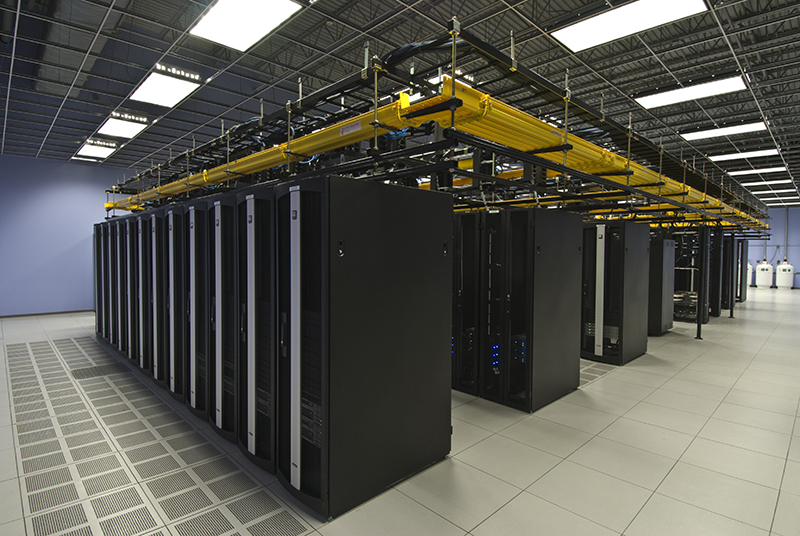 Molnar Jordan & Associates, Inc. (MJA) has provided design, engineering and construction administration services for many data center and call center type projects over the years as well as other corporate and institutional project types. MJA has demonstrated unparalleled expertise in previous project due to its extensive experience in data center type projects. The design approach, from the conceptual and schematic phases of a project to completion, is critical in a successful project.
The two most important flexible data center design characteristics that account for quick and easy deployments and the ability to respond to ever-changing requirements are: adaptability and scalability. These factors will produce significant savings in the data center buildout and in operating costs. By using an adaptable and scalable design, upfront engineering and capital equipment costs can be kept in check, as data center managers and owners adopt a pay-as-you-grow approach. Since the data center must be flexible in its design to allow for growth and unforeseen changes, it is critical to approach the design from this perspective.
MJA has completed numerous projects with this approach resulting in satisfied clients who are able to achieve this type of flexibility. Below is a list of some of the projects with data centers, some of which were new buildings and some retrofit in existing buildings:
Premiere Global, Inc. (Olathe, Kansas)
Premiere Global (Kansas) – design of 2000 SF Tier II data center as part of 85,000 SF building renovation as a central call center. Data center was cooled using 120 ton modular chiller (N+1 modules) with free cooling for winter operation. In-row chilled water cooling units, fed with PEX piping from under raised floor. Hot/cold aisle air distribution. Stand-alone DDC controls with alarm to base building management system. Power maintained on the data center and other critical areas of the building using two 500 kVa UPS modules (N+1) and five, 250 kVa gas-fired generators (N+1 arrangement).
Comverge Data Center (Norcross, Georgia)
Comverge Data Center is a small Tier II data center expansion, 600 sf located in an existing office building. Molnar Jordan & Associates, Inc. provided HVAC, Fire Protection, and Electrical systems design to serve the data center.
The design for the electrical systems included designing a main power distribution system, and uninterruptible power systems (UPS) with generator backup for the data center. Power distribution for the data center included rack mounted PDU's with cables to each rack. The HVAC system consisted of roof mounted package units for the room. The UPS system consisted of rack mounted modules that were expandable from 60 KVA to 100 KVA configured in N+1 arrangement to allow growth and flexibility. The UPS systems also included multiple modules that hot swappable should any module fail.
The generator system consisted of a dual 300 KW engine approach for redundancy (N+1), with controls that will alternate engines to facilitate normal exercise routines.
Accredo Health, Inc. (Memphis, Tennessee)
The Accredo Health building is a 16,700 square foot facility for healthcare administration and data management. Molnar Jordan & Associates, Inc. provided electrical systems design to serve the facility and integral 2,200 square foot data center.
Facility design for electrical systems included designing a main power distribution system complying with Tennessee Building Construction Code. The system also included uninterruptible power system (UPS) configured in a Tier I arrangement with generator backup for the data center. Load dispersement along with multiple distribution panels were incorporated for redundancy and continued operation during utility outages.
Lighting analysis and design incorporated the latest energy efficient fixtures and luminaries to comply with strict 2000 International Energy Conservation Code and ASHRAE 90.1-2001 energy consumption reduction for facility energy savings. Lighting design for the facility maintained Building Construction Code compliance while maintaining adequate levels for facility operation and maintenance.
Hospitals and healthcare facilities are expanding to keep up with the growing records and data management required. Molnar Jordan & Associates, Inc. recognizes this need and is ready to help plan and execute new construction or additions to existing buildings.
Additional Data Center Design Experience:
Accredo Health Group, Inc.(Nashville, Tennessee)
Cobb EMC DRF(Marietta, Georgia)
IDEXX (Alpharetta, Georgia)
Lithonia Lighting (Conyers, Georgia)
Macy's Disaster Recovery (Lorain, Ohio)
Medco Health Center (Franklin Lakes, New Jersey)
Premiere Global, Inc. (Atlanta (Terminus Building); Alpharetta, Georgia; Colorado Springs, Colorado)